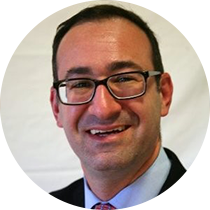 Dr Wollowick is the Sr. Director of Business Development at Stryker Spine. At Stryker, Adam is focusing on mergers and acquisitions and also has responsibility for the Spine Division's Strategy and Business Intelligence functions.
Dr. Wollowick is board-­certified by the American Board of Orthopedic Surgery. He is a member of the American Academy of Orthopedic Surgeons, the North American Spine Society and the Scoliosis Research Society.
Adam worked as an attending surgeon in the Department of Orthopedic Surgery at Montefiore Medical Center and held the title of Assistant Professor of Orthopaedic Surgery at the Albert Einstein College of Medicine, Bronx, NY, served as the Assistant Residency Program Director and was the Director of Spinal Research.
His award-­winning research has been presented nationally and internationally at major orthopaedic and spine society meetings and has been published in peer-­reviewed journals.
Dr. Wollowick received his MD in 2001 with Special Distinction in Research from the Albert Einstein College of Medicine, Bronx, NY. He completed a Masters of Business Administration in 2014 from the Yale School of Management, with a focus on Leadership in Healthcare Management.